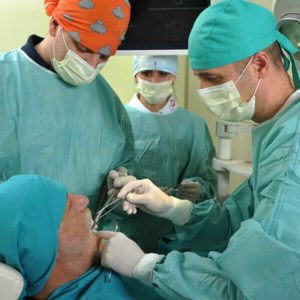 Flap surgery is an intervention in which the dentist surgically accesses the tooth's supportive apparatus in order to remove granulation, dead tissue, tartar or necrotic cement under the direct control of the eye. Because it requires lifting the gums, this intervention is also known as an open curettage of periodontal pockets.
The aim of flap surgery is to remove pathological tissue, regenerate the dental support apparatus and reduce the depth of periodontal pockets. It is usually combined with installing an artificial bone.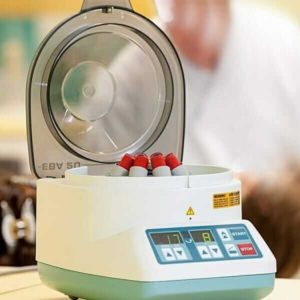 PRF (Platelets Rich Fibrin, Platelets Rich Plasma) is the fraction of blood rich with concentrated growth factors as well as other useful elements. It's made by centrifuging the blood taken from the patient, without adding any chemical substances, which means that what we take from the organism, we give it right back.
PRF helps improve bone regeneration and surgical wound healing. It helps with implantological, oral surgical and periodontal therapy. During periodontal, implantological and surgical interventions, it is mixed with artificial bone and, thanks to the aforementioned characteristics, improves regeneration. PRF protects the wound after the tooth extraction. It also affects the function of stem cells and in this way contributes to better regeneration of both soft and bone tissues.
PRF can be mixed with artificial bone, it can be applied on its own or it can be applied in the shape of membranes. On the application spot, it increases the creation of new blood vessels, oxygen flow and the inflow of nutritious substances, and in this way, it contributes to better tissue regeneration and wound healing.