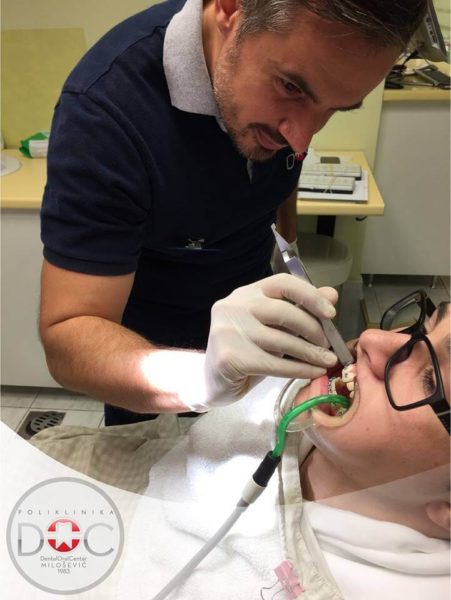 Orthodontics deals with diagnosing, treating and preventing irregularities in the position and development of teeth, jaw and face. Orthodontic irregularities can lead to speech, chewing or swallowing impediments. An irregular position of teeth can make proper oral hygiene much more difficult resulting in tooth decay and periodontal disease. It is not uncommon for these anomalies to affect the disposition of the entire face or its physiognomy. These problems can be solved by installing braces.
Examinations are FREE in our clinic and without any strings attached! Schedule your examination and consultation with one of our doctors by clicking HERE.
Types of braces
Do you wish to straighten your teeth? Would you like it done in the shortest possible time frame, at very affordable rates? Would you like your brace to be 'invisible'?
If you're thinking about correcting the position of your teeth with braces, you should know that there are various systems as well as different lock materials. Apart from the conventional, metal braces, we offer you a fixed apparatus made from sapphire glass with locks that are completely transparent.
On the other hand, if you want your braces to be completely invisible, than the lingual, ie. inner apparatus is the perfect solution for you. With this method, all of the elements are placed on the inner part of teeth, towards the tongue.
Whichever option you decide on you can't go wrong. The locks are all made from the highest quality materials of renowned international manufacturers. If you don't want to wear braces but desire a better layout of your teeth, this is not a problem. We can reach the desired effects with a series of transparent foils (trays).
The age limit on braces
You don't like the layout of your teeth and you want to do something about it, but you're no longer a child… Do you wonder whether you're too late? You're not! There is no age limit on installing or wearing orthodontic apparatus.
Apart from a prettier smile, you'll also get a healthier one. Once the therapy is finished, it will be much easier for you to keep proper oral hygiene and thus preserve the health of your teeth for many more years.
With adults, the treatment is performed with fixed orthodontic apparati. The average duration of the treatment is 1.5 to 2 years, depending on the severity of the orthodontic irregularities.
With the classic method, it's necessary to have checkups on a monthly basis, and with self-ligating braces systems, every 6 to 8 weeks.
Child braces
When is the right time to take your child to the dentist?
The ideal time would be when they turn 5. In this period we can foresee possible issues and eliminate bad habits, if there are any. We're talking about thumb sucking, mouth breathing or
pacifier sucking.
We perform the mobile apparatus treatment (mobile braces) with the children who are from 7 to 13-14 years old. It is very important to say that these aren't just nighttime aligners, but that the time you should spend wearing them is prescribed by your orthodontist.
During your child's intensive growth period (from 9 to 11 years old), we can use functional apparati to direct the development of your child's jaw in the desired direction and get permanent results with an improved profile. With older children, we suggest treatment with a fixed orthodontic apparatus.