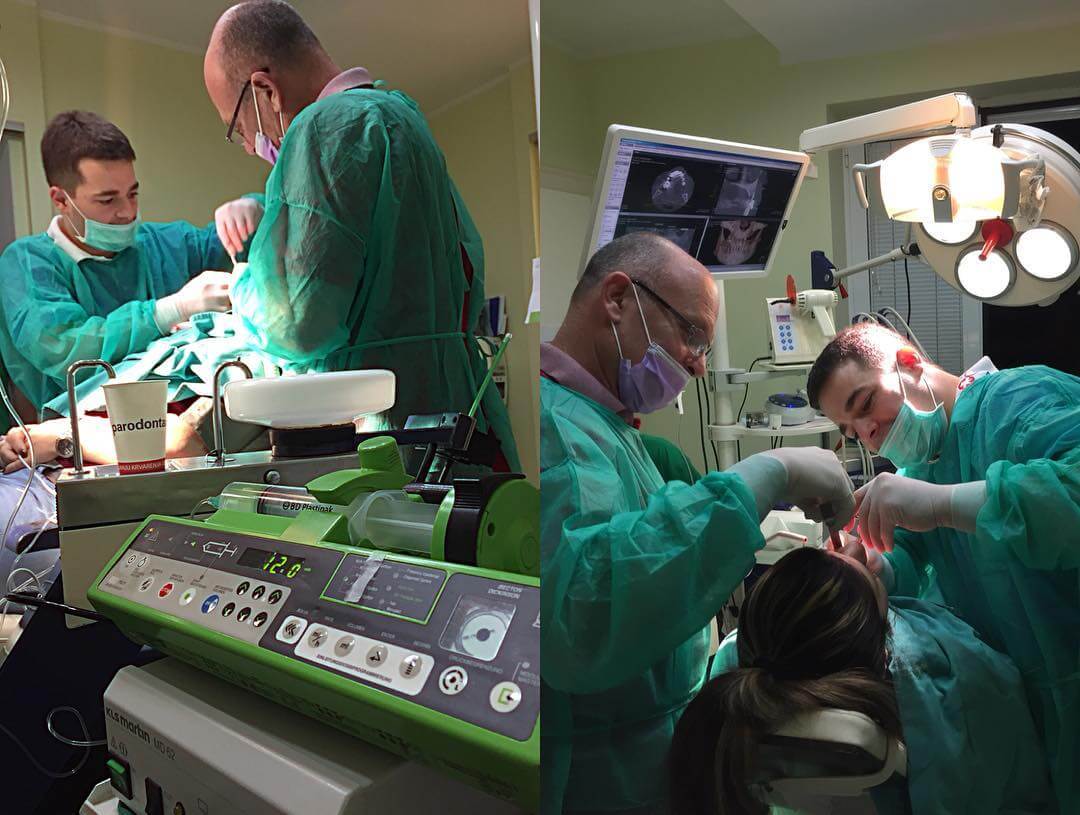 Oral surgery is a dental discipline dealing in the surgical treatment of various kinds of soft tissue or bone tissue disorders in the oral cavity.
Oral surgical interventions are painless. With most oral surgical procedures, it is possible to eliminate pain by applying a local anesthetic which is injected either in the region we're looking to operate on, or in the vicinity of the far part of the nerve, in order to block the conductivity of impulses. In some rare cases, sedation needs to be administered, but this is mostly in cases when our patients are irrationally afraid of dental surgical procedures or children with disabilities.
Oral dentistry at the Dental Oral Center
Flap surgery
Flap surgery is a surgical intervention used in the treatment of periodontal disease. During this procedure, it's common to have to insert an artificial (graft) bone.Grafting a bone can be performed in combination with PRF. Learn more about flap surgery by clicking here.
Tooth extraction
Tooth extraction consists of removing the tooth from its socket, absolutely painlessly, with anesthesia. Learn more about what we recommend after a tooth extraction by clicking here.
Impacted molars
Extracting impacted molars is performed under local anesthesia. It's absolutely painless. Learn more about this procedure here.
Apicoectomy
Consist of removing the infectious byproducts from the end of the root and its vicinity. Learn more about apicoectomy here.
Frenulum resection
The resection of the frenulum is performed when the frenulum is highly attached to the gums. In this way, we can prevent gum recession and the development of periodontal disease. It can also be performed as preparation for installing dental prosthetics or partial braces not encompassing the front teeth.
(Alveolar) ridge leveling
An irregular shape of the jawbone in the zone where braces or implants might be installed can cause both functional and aesthetic issues. By leveling the ridge, we can eliminate this issue and create new conditions that will ensure a high-quality dental prosthetic procedure.
Cystectomy
Oral cystectomy is a surgical procedure of removing dental cysts.
Sinus lift
Sinus lift is an intervention during which we lift the sinus membrane through the side segment of the jaw, in order to imbed a grafted bone and create the perfect conditions for installing dental implants.