When infection caused by tooth decay penetrates into the root canal, it advances towards its tip where it can get into the surrounding bone, in which an infectious process emerges. During apicoectomy we remove this infected part surrounding the tip of the root along with the tip itself.
The aim of apicoectomy is to remove the leftover infectious material surrounding the tips of the root when it's impossible to achieve the same effect by treating the root canal, ie. by endodontics.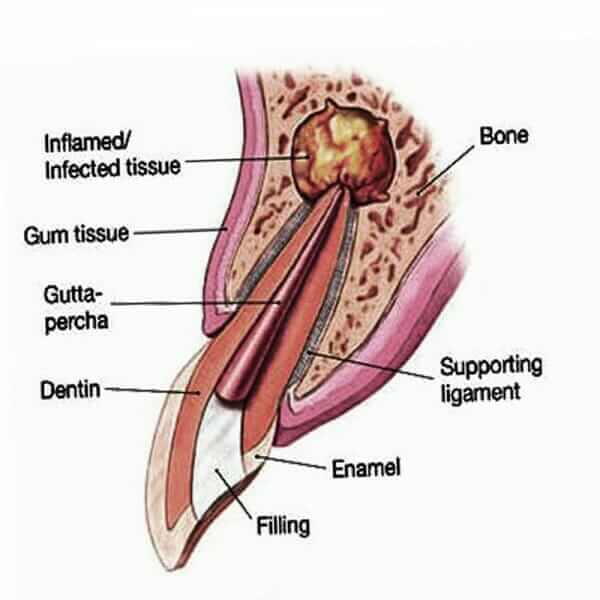 The procedure
Apicoectomy is performed by lifting the gums surrounding the tips of the tooth root, after which infected tissue is removed along with the tip of the root, which could contain bacteria. In order for this intervention to make sense it;s necessary to conduct endodontic therapy either during or before the surgery, to ensure there's no leftover bacteria that could compromise the procedure.
Pain during apicoectomy
Apicoectomy is a completely painless procedure, it's performed under local anesthesia and it lasts about 30 minutes. When nervous patients are concerned, or those overly afraid of dental and surgical interventions, we can perform an analgosedation, which is directed and performed by a specialist anesthesiologist at our clinic.
Recovery after apicoectomy
After the intervention, the patient will receive the dentist's instructions as well as a cooling gel to remedy the operated section. Most oral surgical interventions today go by without any pain or with minimal to no swelling. Taking antibiotics and other medication will make your postoperative period more comfortable.